ZAKOŃCZENIE SEZONU
Informujemy, że przy sprzyjających warunkach pogodowych sezon turystyczny na Rafie zakończymy 15 października 2018r. W pełnym zakresie będziemy do Państwa dyspozycji do 30 września 2018. W październiku oferujemy nasze usługi w następującym przedziale kalendarzowym:
możliwość zakwaterowania w domkach: 01.10 - 15.10
infrastruktura typu: plac zabaw, siłownia, plaża, taras z leżakami, możliwość wędkowania: 01.10 - 15.10
camping: 01.10 - 15.10
tawerna czynna: 05.10 - 07.10
wypożyczalnia sprzętu pływającego: 01.10 - 07.10 oraz 12.10 - 14.10
slip: 01.10 - 07.10 oraz 12.10 - 14.10
altana grillowa dostępna: 01.10 - 07.10 oraz 12.10 - 14.10
sala wielofunkcyjna z grami, bilardem itp. czynna: 05.10 - 07.10
recepcja czynna: 01.10 - 07.10 i 12.10 - 14.10 oraz w/g potrzeb zakwaterowania w domkach i na campingu
** Uwaga, miesiącu październiku zakwaterowanie w domkach i na campingu możliwe wyłącznie po złożeniu rezerwacji lub zgłoszeniu recepcji pobytu z wyprzedzeniem.
About Rafa-Jeziorsko
Location
RAFA-JEZIORSKO resort is located on the west coast of Jeziorsko Lake, about 1.5 km from the dam. Thanks to the location right by the water, it gives opportunity to relax in exceptionally beautiful place.
GPS Coordinates:
N: 51° 51' 8.74"
E: 18° 40' 27.04"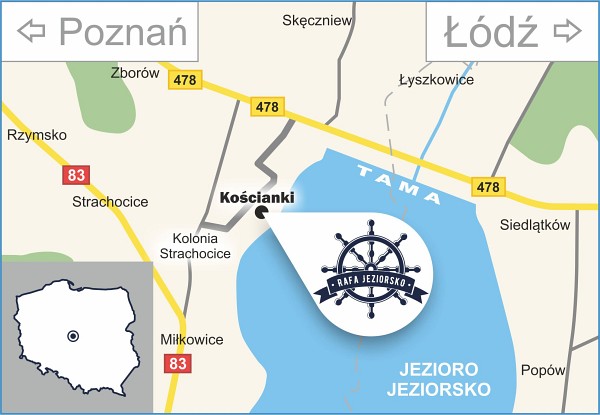 Characteristic
Thanks to perfect location and wide turistic offer, The Resort requires not only families with children, organized groups, sailing and fishing enthusiasts, but also all water sports geeks. The Resort has own beach and a harbor where you can safely launch and moor a boat.
Inside The Resort area you can find:
summer restaurant
cafeteria
touristic shop
water equipment rental
beach
covered fireplace with grill
multifunctional room with billiard
beach volleyball court
basketball area
playground
yacht shipyard
The Resort offers different accommodation possibilities. It has camping houses and caravans with diversed types and standards. Accommodation offer is directed to individual customers and groups. Campground guarantees high media and sanitary standards.
Rafa Harbour offers launching, mooring and winterizing service for all kind of boats. It is situated in beautiful bay, which gives quiet and comfortable place to moor a boat both to the pier or to the shoreline. Water equipment offers sailboats, boats, kayaks, pedalos, engine pedalos and more other attractions. For the peaceful and quiet resting enthusiasts there is comfortable cruise ship waiting.
For the best safety The Resort is monitored 24/7.
In the neighbourhood of The Resort there are Thermal Pools "Uniejów", Safari Zoo in Borysew and a stud. Picturesque Jeziorsko Reservoir area is also a great place for trip fans (by foot, on a bike, horseback). South part of the reservoir is an ornithological reserve, where you can find over 250 birds species.
Current promotions
W chwili obecnej na terenie Ośrodka obowiązują następujące promocje:
do 35% zniżki

na zakwaterowanie dla dzieci do 16 lat

5% - 7% zniżki

dla pobytów od 7 dni

10% zniżki

campingowej za pobyt powyżej 7 dni

10% zniżki

campingowej dla członków PFCC i CCI*

40% zniżki

na rejsy statkiem dla dzieci do lat 12
*Zniżka nie sumuje się z innymi zniżkami
Current weather

Check current weather conditons

Ośrodek akceptuje zwierzęta

Zabierając pupila na wakacje pamiętaj, że nie wszyscy kochają pieski tak jak Ty
The Resort is open in
April-October season.
CAMPING 52